Welcome to The Racket and Fitness Center
The Racket and Fitness Center is the largest indoor racket facility north of Boston. We offer tennis, racquetball, squash and wallyball court rentals by the hour or through contract court time in our 82,000 square foot facility.
We are a non-membership racket club and open to the public. All are welcome.
With 9 indoor tennis courts our facility offers private and group tennis lessons, round robin match play and USTA League matches. The Racket & Fitness Center offers group lesson programming for children to up to adults. Our teaching professionals also provide private lessons and USTA team practices.
Our facility also includes 5 climate controlled racquetball courts, and wallyball courts.  We have recently converted a wallyball court to a squash court.  The facility also houses a private cardio and weight room. Fully equipped men's and women's locker rooms provide locker and shower amentities. We also have a new massage room with professional services provided by Beth Mitchell Massage.  An upstairs lounge serves pizza and drinks. The facility also offers a large banquet room for rental that can seat up to 150 people.
9 climate controlled tennis courts with brand new indirect lighting
5 climate controlled racquetball and wallyball courts
Squash court
U.S. Open blue courts
Full fitness center
Locker rooms & showers
Massage services
Full-service lounge
Want to start playing again?
We can help.
Adult Tennis
Programs
Interested in our adult tennis programs?
Click here for more info.
Junior Tennis
Programs
Looking for junior tennis programs?
Click here for more info. 
Click the play button to
see our new lighting system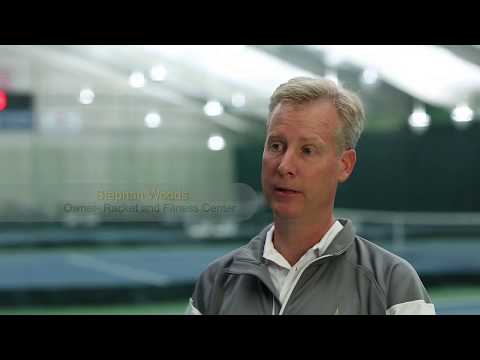 Meet Our Tennis Pros and Fitness Instructors
Eliot Potvin
Director of Tennis
Eliot joined the Racket and Fitness Center staff in late spring 2016. Growing up in Hampden, Maine, he excelled in tennis, hockey, and soccer. He was a two- time high school state singles champion, won three New England Sectional titles and earned a #1 ranking in New England in the boys 16's and 18's. A four year starter for Division 1 Georgia Tech, Eliot was nationally ranked in singles and doubles, and he helped the Yellow Jackets earn a year-end NCAA ranking of #13. After college, he played on the ATP tour and earned 4 ATP points.
USPTA certified, Eliot has been coaching juniors and adults for the past eight years, and has worked with dozens of nationally ranked players. Most recently, he was the assistant director of the New England Academy of Tennis, in Natick, MA. During the summer season, Eliot is the Director of Tennis at Portland Country Club.
As Director of Tennis at the Racket & Fitness Center, Eliot's goal is to build a robust tennis community and strong development program. Eliot thrives on teaching junior players the love of the game, enjoying competition of all levels with the ability to reach the highest levels of college tennis and beyond.
In his free time, Eliot enjoys spending time with his wife, Lauren, and their family. In 2013, Eliot and Lauren completed a 2,184 mile hike of the Appalachian Trail, and they continue to enjoy all types of outdoor recreation.
email: eliotpotvin@gmail.com
Dave Cousins
Director of Corporate Programs and PTR Certified Tennis Professional
Dave has been a teaching pro at Racket and Fitness Center for ten years, teaching players of all ages and ability levels. Before coming to the Racket, he was Director of Tennis at a local recreation program for 17 years. He started playing tennis at age 13, and he convinced all the kids in the neighborhood to play. During college at USM, he began playing USTA League tennis. Dave has enjoyed 25 years of USTA League tennis, and has attended five USTA Sectional championships as a player with both Men's and Mixed Doubles teams, and twice as a coach of a Women's team.
He is marking his 22nd year as a PTR Certified Tennis Professional. His deep knowledge of equipment, from rackets to strings, make him a valuable asset to players in search of new tennis products. Dave has taken the United States Racquet Stringers Association course, further solidifying his stringing knowledge.
He also enjoys being the detail man in setting up charity event fundraisers for MS, the American Heart Association, the United Way and the Alzheimer's Association! He is also involved in DDP Yoga, a hybrid yoga workout that is transforming lives everywhere.
Kelly Anchors
PTR Certified Tennis Professional
A full time teaching pro for over 20 years, Kelly came to the Racket and Fitness Center in 2016. Her entire career has centered on her passions for teaching, learning, and helping others gain confidence in life through tennis.
Kelly's professional training was at Van Der Meer Tennis University in Hilton Head, South Carolina.Prior to moving to the Portland area, she was director of junior tennis programs in Brunswick and Bangor. She actively trains and certifies tennis teachers as a PTR National Trainer, and has conducted Tennis Pro Certification Classes throughout the United States. She has been recognized as PTR New England Pro of the Year in 2005 and as PTR Maine Pro of the Year in 2008.
Her specialty is children's programs, but she also enjoys working with adults. Kelly's goal is to use the most current teaching methods to help people develop a love of the game. Her experiences include coaching USTA teams, running adult and junior clinics for all ability levels, and private coaching of successful high level juniors.
When she's not on the court teaching tennis, she's on the court playing. In USTA league play Kelly made it to Nationals, where she and her doubles partner went undefeated in match play!
Tracy MacNider
PTR Certified Tennis Professional
Tracy has been a teaching pro at the Racket & Fitness Center since 1999. Growing up in Ottawa, Ontario, Canada, she developed her power baseline game playing against some of the top ranked boys in Canada. She was a member of her varsity high school tennis team, playing singles and mixed doubles all 5 years. She graduated from Trent University in Peterborough, Ontario, and made the move to Maine and the Racket!
She is certified by PTR as a Tennis Professional in both Junior and Adult Development and by Tennis Canada as a Level 2 Tennis Coach. Tracy enjoys working with all ages and abilities but specializes in working with younger competitive athletes. She coached the Scarborough high school girls' varsity tennis team and the middle school tennis team from 2000-2007.
Tracy also enjoys playing competitively throughout New England. She ranked in the top 5 in Women's Open singles in new England over a period of ten years, reaching #1 in 2006 in both Women's 4.0 and 4.5 levels and #2 in 2008. She loves spending time with her dog on the beach in Ocean Park.
Doug Bearce
Tennis Professional
Recently semi-retired, Doug has been a tennis professional at the Racket and Fitness Center for the past 40 years, serving as Head Pro for the last 30 years. He graduated from USM, where he played baseball for the Huskies and, at age 21, picked up his interest in tennis.
Doug has been an active player, teaching pro and coach throughout his career. He has been Head Pro at clubs in Kennebunk and Falmouth. He has served on the board of the Maine Tennis Association (MTA), and has been ranked #1 in MTA Men's Doubles multiple times, and #1 in USTA New England Men's 4.5 Doubles. Doug has enjoyed three trips to USTA Nationals competitions as a league player.
In the summers, Doug serves as the Head Pro at a local country club and enjoys the opportunity to work on his clay game. He also loves a round of golf and, given the weather and an opportunity, the chance to fish.
One highlight of his tennis career was playing tennis and sharing a cold Fosters beer with Australian tennis great Rod Laver.